Terry's ORA Tips
Using Online Repository Assistant to Aid Your Research
This page updated 25 Apr 2023
John Cardinal, creator of several companion programs to facilitate genealogical research and publication, has written some amazing software to assist anyone who uses online services to for genealogical research. It's called Online Repository Assistant, or ORA, and you can read all about it on John's website. It is a "browser extension" which when added to your favorite browser adds new features as you browse your favorite genealogical services.
While many of the topics on my website are limited to The Master Genealogist, ORA can be used with any genealogy program, and even with other types of programs. Some of the examples in the Auto Type page mention issues specific to TMG, but the rest of this section applies to users of all genealogy programs.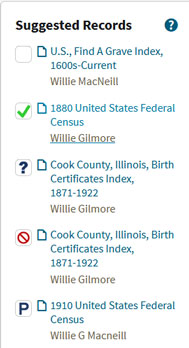 ORA provides two separate functions when viewing a page for a genealogical service. One allows the user to record the status of any item displayed by the service so you can see instantly that you have seen it before and used it, plan to use it but haven't, found it might be useful, or rejected it. The illustration on the right shows a portion of a list of suggested records from Ancestry.com in which several of the suggestions have been marked with various status symbols.
Some early users have said this feature alone make ORA worthwhile for them. But I think the second feature will be even more useful to most users.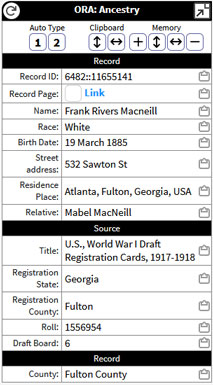 ORA collects the information found in the page – names, dates, places, etc. – and presents it and an easy-to-use format. This illustration on the left shows the ORA OraPanel, where the collected information is displayed, as found on a WWI Draft Registration record on Ancestry.com. The data collected can then be transferred to your genealogy program or another program in four ways:
Individual data items can be copied with a simple click. No more trying to select just the name or date to copy from the body of the page and accidentally getting hidden HTML characters that prevent them from pasting properly into your genealogy program.
Simple Templates allow the user to have data items reformatted for easy copying and pasting into your genealogy program. Dates or other text can be reformatted if desired. Additional text can also be added, for example, to produce "shows age 37 and state" to record how information in a birth record was provided in a document.
The users can create Auto Type Templates that actually enter data into their genealogy programs, including controls that advance from field to field in the data input form, or even open new windows in that program, depending on the capabilities of the program being used.
All of the data items collected from several different records can be copied and pasted into a spreadsheet or other program for comparison. For example, one might copy the records for several different people thought to be the same and paste them into a spreadsheet for comparison.
In the articles listed below I describe in more detail some of the features of ORA and some techniques I have found useful. The articles range from general information suitable for beginning users to fairly obscure techniques of interest only to more advanced users.
General Information
Understanding and using ORA
ORA Basics - An overview of installing and using ORA
Basic Tips & Tricks - A few tips on how to use ORA's basic functions
Template Basics - Understanding how Templates are used
Transforms - Some tools to transform the data items collected into your preferred format
Advanced Techniques
Some advanced techniques I've found useful
Advanced Template Methods - methods useful in constructing more complex Templates
You can also use the Search function to locate topics of interest.
If you need help in finding the best way to apply the ORA to your application and preferences I would suggest subscribing to John Cardinal's ORA support list, where John and other users are always ready to provide help. And don't forget to consult John Cardinal's very helpful and comprehensive ORA website.
Copyright 2000- by Terry Reigel