ReigelRidge Press
Update Page for
A Primer for The Master Genealogist
This page updated 28 Dec 2011
This page provides updates for readers of A Primer for The Master Genealogist when errors are found in the text, or when changes are required by new or improved features in the program.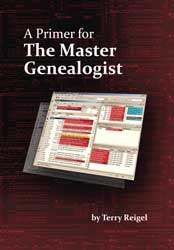 Updates Issued:
Date

Pages

Issue

Apr 2008
52-53
Improvement introduced with TMG 7.01 – A change in the behavior of the Repeat Last Citation button on the Tag Entry screen makes the description of this function in the first edition obsolete. This button now opens the Citation screen, populated with the most recently used Source Number and Citation Detail entry, so that the various fields may then be edited if desired. Replacement pages with updated text may be downloaded as a PDF file and printed if desired.
Dec 2011
78-79
114
122-123
125-127
Improvements and new features introduced with TMG 8.00 – A complete re-write of the report writing section allowed footnotes and endnotes to be included in reports sent to screen, printer, and created as PDF files. New standard Roles provide many useful applications for event participants entered as Witnessed in events. A change no longer requires Tags with two Principals to have both assigned either the default "Principal" Role or some other Role. A new feature allows users to color-code specific types of tags in the Person View and Associates window. Replacement pages with updated screenshots and text may be downloaded as a PDF file and printed if desired.
The Master Genealogist, TMG, and Wholly Genes are trademarks of Wholly Genes Inc., and are used by permission.
Copyright 2008, 2011